About
My name is Patience and I believe life is a gift and every day is a blessing worth celebrating. Growing up I learned to celebrate every small step in life because my parents taught us that from little things, the greatest often grow. Today, I treasure and deliberately look for opportunities to celebrate others and in special ways that make each celebrant significant. I discovered that celebrating others has benefits that are not only mutual but also transformational. Research has proven that you always have more of what you celebrate when you celebrate. Therefore, individuals should make it a duty to celebrate what they want more. We should celebrate ourselves, family, friends, coworkers, and seasons. We should celebrate birthdays, birth announcements, anniversaries, graduations, promotions, etc. We should celebrate life because it is a fleeting gift and we capture significant moments and keep them with us when we celebrate. This is my stance and no doubt I fell in love when I saw my first stork sign.
It all began in summer 2021 when I visited Phoenix, Arizona. My visit coincided with my birthday week and our daughter-in-law who is in the stork rental business decided to celebrate my early birthday in grand style using the rental stork signs. No words can describe the feeling that morning on my way out for my usual morning walk when my eyes captured the amazing signs on the front lawn. I was more than stunned when I realized the storks had my name engraved in addition to the words, "Happy Birthday Grandma". The indelible memory will surely linger on my mind forever. It was then that I knew stork rentals was my next call. As someone who unapologetically looks for opportunities to celebrate others, I am very delighted to encourage you to connect with Fox Cities Storks and More (LLC) to help make your special occasions memorable. Fox Cities Storks and More (LLC) will add a personal touch to your life's most precious moments as you celebrate family, friends, coworkers, and events in the Fox Cities and surrounding areas.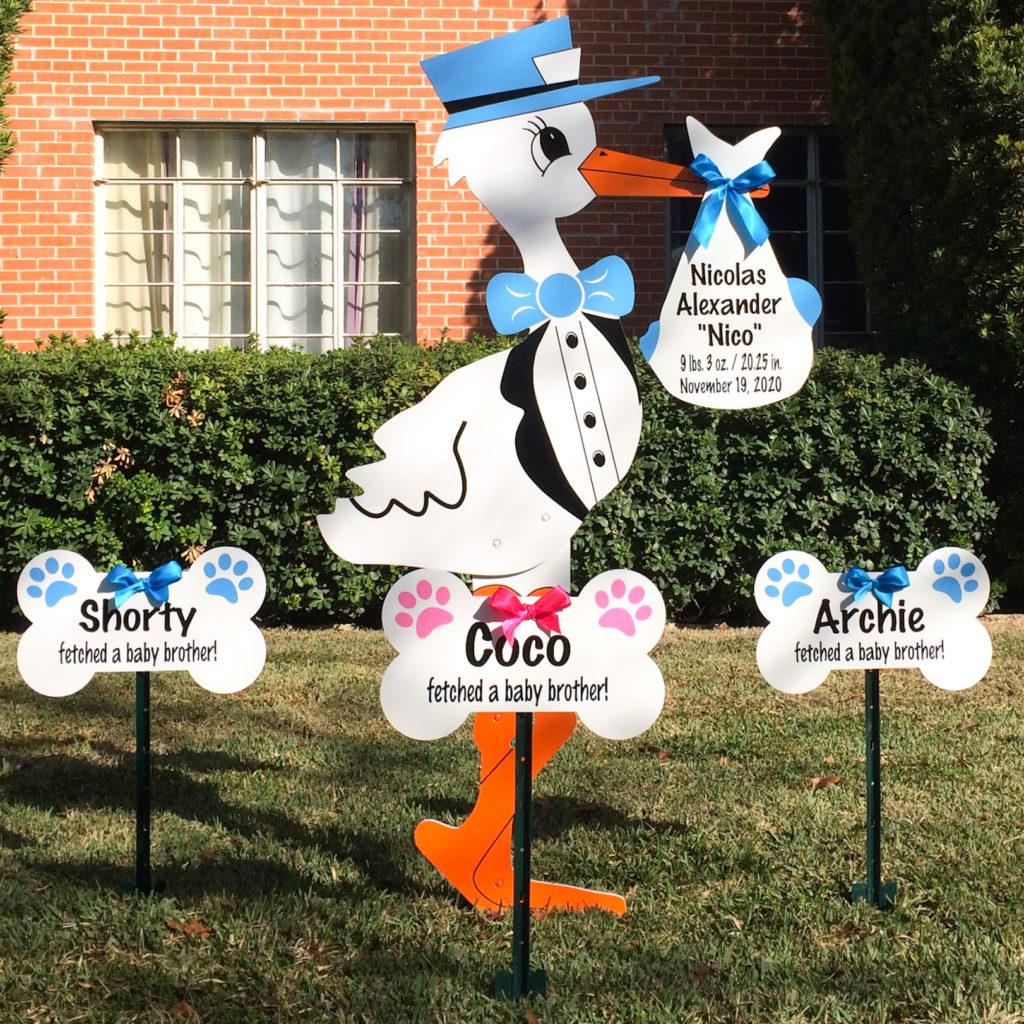 The cost for renting a stork sign to welcome the new baby is $85.00 (for a one-week rental) plus applicable tax.
We proudly serve the Fox Cities and the surrounding areas including Appleton, Grand Chute, Greenville, Kaukauna, Kimberly, Little Chute, Menasha, Neenah, Oshkosh, WI. Delivery beyond 20 miles radius from my home business will have a delivery charge.
Yes, you can place your order before the new baby is born. At the time you place an order you will need to include the baby's information such as the due date.  If possible, please use Fox Cities Storks and More online order form. Once you notify us that the baby has arrived, we will be glad to deliver your order at your convenience.